Last weekend, my daughter Julia participated in the countywide Solo & Ensemble Festival. She and her friend played a Mozart clarinet duet. Their performance rating: 1. The girls will perform again at the state festival this spring.
I asked my husband to take Julia to the event. I get way too anxious and that makes the kid anxious and then she gets stage fright. Rob said that the stage parents–band/classical music stage parents are their own brand of crazy–were out in full force.
Yes, there is a connection between this 1950s bombshell and the Solo & Ensemble Festival.
I had to research Debra Paget's life and career. She had a stage mom extraordinaire. The parents Rob observed fussing over sheet music this weekend had nothing on her mother.
Young Debra Paget. Her real name was Debralee Griffin.
The film industry was taking off and former actress Margaret Griffin was determined to get involved, via her five children. The family moved from Colorado to California. Four of the siblings, each with stage names, made it into show biz. (Source: Wikipedia, confirmed on IMBD.)
After watching film clips of Paget on YouTube, it struck me that the starlet transformed more than her name. She had a curvy build, dark hair and light eyes. In 1950s Hollywood, that look did not read All-American.
Debra Paget's roles tended to be exotic. She played Indian princesses (both American Indian and India Indian), a Hawaiian beauty, the queen of Persia and Egyptian royalty. Factoid: She was Elvis Presley's first leading lady – playing an American girl. It was the one and only time anyone else had top billing in an Elvis movie.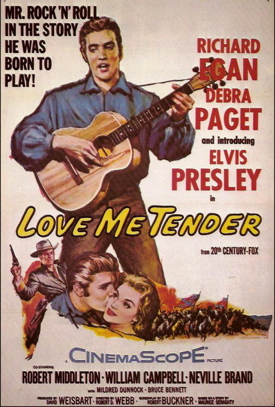 Paget's hair was lightened for the film.
I was having a hard time with this poem. My first tendency was to complain. Why was a dark-haired girl automatically deemed "foreign?" That ticked me off. I had to dig deeper, learning about Paget's film. The breakthrough moment for me was finding clips from "Omar Khayyam."
Paget starred opposite Cornel Wilde.
It boggles my mind. This film was made in the 1950s and the romantic lead was a 12
th
century Middle Eastern astronomer and poet. The movie is an unrequited love story. Paget's character is married to the shah. She and her poet can only express their love through words. Sigh.
I still think it's awkward (at best) that Paget was so consistently typecast as the foreign beauty. But I felt better about her lot once OmarKhayyam, author of The Rubáiyát, entered the poem.
In Denver, she was Debralee,
but on screen she was always
the Indian maiden who craved
a white man's kiss.
She was Sheena of the jungle
and Shalimar dancing for cobras
along the Nile. But I love her best
as Sharain, royal wife whose heart
stays true to Omar Khayyam.
The poet cannot have Sharain,
but longs to stare into her eyes.
In The Rubáiyát Khayyam says the stars
over Persia are glories of this world.
Who can blame Debra Paget
for letting other starlets play
the blondes, the American girls
unworthy of a poet's pickup line.
By Laura Shovan
I know I am being unfair to the historical Khayyam's beautiful poetry with this poem. Let's consider the Khayyam of this poem to be the movie's romantic lead. His love affair with Sharain was completely invented by Hollywood. Little is known about the real Omar Khayyam's life beyond the fact that he was a brilliant poet, mathematician and scientist.
Postcard Information
Front:
Debra Paget, 20
th
CENTURY-FOX
Back:
TAKKEN, Nadruk verboden A.X. No 1536
The stamp is "Canclled Rotterdam C.S. 16//9, 1955"
Trivia buffs: Debra Paget became a born-again Christian. She once had her own program on a religious network and still does guest appearances on Christian television. You can find recent clips of Paget on YouTube.
I prefer to leave you with scenes from the movie Omar Khayyam.